No visitors to Copenhagen should skimp on the food budget: Dining in Copenhagen is world-class, and while not all of us can afford Michelin-star meals, even the lesser-known restaurants are known for a focus on slow food, quality dining experiences.
Copenhagen's best restaurant, Noma, is also the world's best eatery – at least according to the San Pellegrino Awards, where Noma has come up top three years in a row. Don't worry if you can't get a table at Noma, however: Creative yet simple menus from local, seasonal produce can be found at many other spots in the city. Try, for example, Restaurant Radio – initiated by Noma co-owner Claus Meyer – or Norrebro's back-to-basics Relae, a Michelin surprise in the gritty Norrebro district co-founded by former Noma cook Christian Puglisi. Even more locally specific is downtown Koefoed, a romantic restaurant serving Bornholm dishes.
Re-interpreting Danish classics are out-of-town Paustian and smorrebrod experts Aamanns, both promising diners a tour of the traditional Danish kitchen that will surprise and please. For those that like nothing more than a good steak, Restaurant Peder Oxe offers high-quality meat in a great location.
If you like a sea view with your meal, the views from harborfront Toldboden are hard to beat; the grill restaurant also does climate-friendly menus. Meanwhile, we've selected Cap Horn from the many restaurants on tourist pier Nyhavn for its attractive interior and focus on organic dishes.
Copenhagen offers plenty more than just Danish food, and to list its many commendable Asian, Mediterranean and French restaurants would take too long. We've singled out Mother Pizzeria in trendy Kodbyen for combining casual dining with exceptional pizzas.
PEDER OXE'S RESTAURANT AND WINE BAR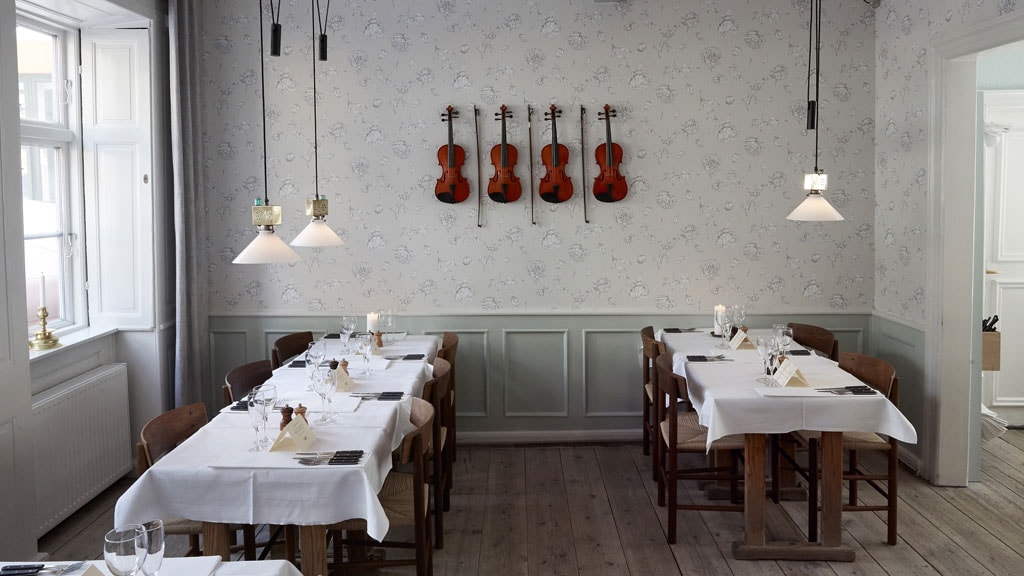 Located in an old building filled with character on the historic (and impossible to pronounce) square Graabrodretorv, Peder Oxe has long been a favorite with residents and tourists alike. Pride of place is Peder Oxe's butcher's counter of Portuguese tiles, where diners can pick out the cut of meat or seafood from the free-range/ freshly-caught selection. Peder Oxe is an old-fashioned kind of place for people who like classic dishes such as the restaurant's hugely popular steaks served simply without any kind of contemporary reinterpretation. Peder Oxe was the first restaurant in Copenhagen to establish a salad buffet and this tradition continues today. Dine outside on the lively square or, in the winter months, next to the delightful open fireplace.
Local Expert tip: Peder Oxe also has a wine and cocktail bar in its basement.
There are so many restaurants on tourist street Nyhavn that it can be hard to single just one of them out, but Cap Horn is exceptional for its charming interior and its high quality ingredients, most of which are organic; specialties include freshly caught fish, free-range lamb and steaks. Cap Horn is open for both lunch and dinner and diners can choose to sit out on the cobbled quayside (with a blanket in case of chilly winds) or inside Cap Horn's historic, perfectly restored premises, with its dark wood panelling and leather-backed seats.
Local Expert tip: Private parties can easily be accommodated upstairs in either of Cap Horn's banqueting rooms.
RESTAURANT JULIAN TOLDBODEN
Located in an old customs and excise building on Copenhagen's harbor front not far from The Little Mermaid (Toldboden's name means custom house) this modern, innovative restaurant keeps its decor simple, its windows large and open to the panoramic view and its menu sustainable and local. Toldboden is one of a handful of climate-friendly restaurants in Copenhagen offering a special sustainable menu where the exact carbon footprint of a dish has been calculated and kept to a minimum. Helping the planet is combined with an informal atmosphere, modern kitchen and a menu that invites families and other larger parties to enjoy mix and match grill and brunch buffets. Note that Toldboden closes during the winter.
Local Expert tip: Another Restaurant Julian is located in Copenhagen's Nationalmuseet.
RESTAURANT PAUSTIAN
This restaurant on Copenhagen's harbor north of Osterbro is located in the Paustian complex, next to the showroom of the world class furniture and interiors firm of the same name in a building designed by Sydney Opera House architect Jorgen Utzon. Paustian reopened in 2011 under new ownership with a more traditional Danish menu that places hearty Scandinavian fare in an attractive, modern setting. The husband-and-wife team of Lisbeth and Bo Jacobsen promise genuine Danish cuisine served with warmth, personality, service and commitment. The seasonal a la carte menu is simple yet good and includes a large range of locally-caught fish (there are at least three kinds of herring for lunch) as well as beef sirloin and pork cutlet; the much under-rated Danish dish 'tarteletter,' or small puff pastry tart cases filled with meat and vegetables is just one of the forgotten Danish classics on Paustian's menu.
This downtown restaurant in Copenhagen's elegant Frederiksstaden district serves the very best dishes from the Danish vacation isle of Bornholm, situated in the Baltic between Sweden and Poland. Koefoed prides itself on organic, free range produce, and can trace most of its meat back to source; the restaurant has its own cattle and lamb back on Bornholm. The food is fresh, light and colorful yet filling and tasty. Koefoed is decorated in a classic, upmarket style and provides an ideal setting for a romantic dinner as well as being able to cater to larger groups. Choose between a five-course set menu for  495 (complimentary wine menu DKK 395) or from the a la carte menu. Booking advised. Dress: Smart but informal.
Local Expert tip: You can also dine outside during summer.
This modern yet traditional restaurant tucked away between national gallery Statens Museum for Kunst and the leafy Osterbro district has reinvented Denmark's national dish, smorrebrod. Described by some as "Danish tapas" and by others as "Danish sushi", smorrebrod chefs take a slice of rye and create magic. Aamanns refuse to translate the specialty into the oft-used "open sandwiches", as many do, and even kept the term smorrebrod when they opened a branch in New York City in 2012. Aamanns Copenhagen is open for lunch and dinner – while lunch is more about the smorrebrod, evening meals are more substantial and offer the chance to sample a range of starters, mains and desserts that are all classics of the Danish kitchen – presented in new and challenging ways at this stylish, elegant eatery.
MOTHER
This trendy pizzeria in Copenhagen's upcoming district Kodbyen, the old meat-packing quarter, specializes in sourdough pizzas of the highest quality cooked in the restaurant's wood-fired oven. Despite its informal vibe (this is the kind of place where you can grab a slice before hitting the bars and clubs), the food at Mother is certainly not to be dismissed and dishes are prepared from scratch with fresh ingredients. According to Mother's Italian chef, sourdough is better than regular dough for pizzas, not only due to its intense flavor but also its ability to be digested easily, and although you won't feel hungry, "you'll be ready to dance in half an hour". Inside, Mother's decor of red lamps, smart tables and chilled music is complemented by its international staff and hip clientele – no wonder it's became rated as one of the city's top pizza joints.
Breakaway Noma-chef Christian Puglisi opened his own restaurant Relae in outer Norrebro in summer 2010 on Jaegersborggade, a former biker haunt dubbed by the New York Times as "Copenhagen's quirkiest street". In March 2012, Relae was awarded its first Michelin star, making it one of the most affordable gourmet restaurants in Copenhagen. It remains an informal place with a menu that echoes Noma but that's simpler and more vegetarian-friendly (Relae keeps costs as well as carbon levels down with a menu based on vegetables, grains, chicken and fish) and also adds a dash of Puglisi's Sicilian heritage. Four (smallish) courses from the set seasonal menu will cost you a mere DKK 355, while a selection from the extensive wine menu is similarly priced. The decor is also simple and rustic – bare brick walls, no tablecloths – but in keeping with the raw glamor of the street outside.
Local Expert tip: Next door to Relae, side project Manfreds and Vin is a combined wine bar and deli.
No tables available at Noma? Claus Meyer's Restaurant Radio offers similar dining at smaller prices, with a set menu of imaginative dishes made from Scandinavian produce that changes according to season. Radio offers plenty of vegetable and fish-based dishes and is climate-friendly. Restaurant Radio is named after its location next to the former 'Radiohuset' concert hall of Danmarks Radio (this closed when Danmarks Radio moved out to Orestad and Koncerthuset) and can be found on the edge of Frederiksberg, just yards from both Forum concert hall and the Copenhagen Lakes. Prices are very reasonable – a three-course set menu will set you back DKK 300, plus drinks – while the decor is simple and rustic, in contrasting dark and pale wood.
Local Expert tip: Check out the dish of the day written on the blackboard.
NOMA
The only restaurant in Copenhagen to have been awarded two stars by the Michelin Guide, Noma stands for 'Nordisk Mad' or Scandinavian cuisine, and this gourmet restaurant has become world famous for producing imaginative, beautifully-looking and wonderfully ingenious seasonal set menus made only from produce sourced in the Scandinavian region. From Greenland musk ox and Icelandic skyr curd to Finnish berries, Swedish truffles and Baltic seaweed, a meal at Noma is a sensory adventure into the ecosystem of the Nordic region. While these menus seemed like a gastronomic gamble for co-owners Rene Redzepi and Claus Meyer when the eatery first opened in 2004, it paid off: Noma was voted world's best restaurant for the third consecutive year in April 2012. Noma is part of North Atlantic House, a regional cultural center located in an old warehouse overlooking Copenhagen's harbor in the Christianshavn district.